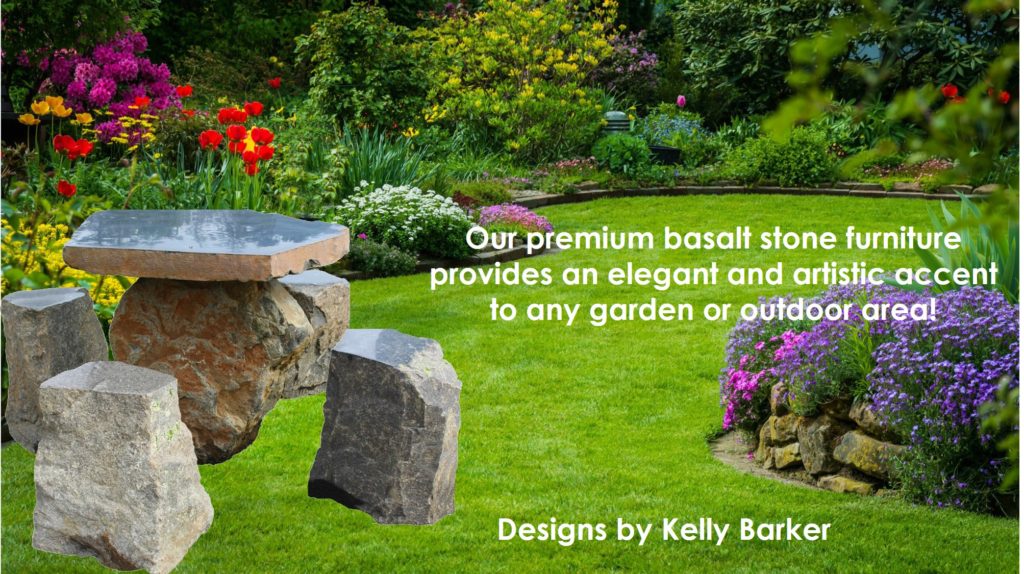 Column Basalt tables, stools, benches and fire-pit tables are available for your patio and garden. This outside furniture adds style and practicality in a very permanent way. Polished to a 10,000 grit, these pieces are always one-of-a-kind. Etched rocks can add whimsical, spiritual or mythical presence to your garden's landscape.
Available stone furniture:
Bring a sense of zen to your garden with a classic stone ornament! These beautiful tables warm in the sunlight for a delightful place to congregate. Stone accents placed in the Northeast section of the garden align with "Earth Energy" for positive fen shui.  Fire-pit tables serve as vitality of the garden attracting positive energy when placed in (or near) the South end of a garden.
Basalt is a igneous rock which makes up most of the bedrock for Earth's surface, it is also found abundantly on the moon and Mars. This fine grain rock polishes well giving a sleek glass-like finish and comes in a variety of colors. As a bi-product of volcanic events basalt stone often contains other minerals such as, olivine, quartz, hornblende, nepheline, and orthopyroxene. The presence of these other minerals add to the ascetic of crafted furniture, making each item a truly unique piece of functioning art.